Regular price
Sale price
$18.00 USD
Unit price
per
Sale
Sold out
Introducing the Love Spell Soy Wax Candle from the Spring Scent Collection. This aromatic candle will infuse your space with a delightful blend of fragrances that will transport you to a world of beauty and enchantment. 
Fragrance notes: Our Love Spell Soy Wax Candle is a perfect blend of fruity and floral scents, including bergamot, peach, strawberry, apple blossom, African tamarind, Damask rose, tonka bean, coconut milk, and white musk.
Long-lasting burn: The 9 oz. glass jar and 6 oz. tin options provide up to 50 and 30 hours of burn time, respectively. The candle has a slow, even burn and can fill any room with a delightful fragrance in minutes.
Eco-friendly: Our candles are environmentally friendly, as soy wax is a renewable resource that is biodegradable and sustainable. We also use fragrance oils that are "clean scent certified" and are free from carcinogens, mutagens, and other toxins. Additionally, we only use non-toxic cotton wicks for a cleaner-burning candle.
Natural Soy Wax: Our candles are made with natural soy wax that is clean-burning, eco-friendly, and free from harmful chemicals. The soy wax provides a clean and pure scent that won't overpower your senses or leave any soot or residue.
Attractive Design: The Love Spell Soy Wax Candle comes in a beautifully designed glass jar or tin that will complement any room's decor. Each includes a lid to keep the candle fresh and safe when not in use.
Perfect Gift: Our candles make for a perfect gift for any occasion, including birthdays, anniversaries, or housewarming. The exquisite fragrance and stunning packaging will delight your loved ones and make them feel special.
Experience the enchanting scent of Love Spell Soy Wax Candle and make your home smell fresh and lovely while being kind to the environment.
Available in 6 oz. tin or 9 oz. glass jar (lids included).

CANDLE CARE:
Allow your candle to burn until the full surface has melted. This ensures that your candle reaches a full melt pool and burns evenly for its full life.
Wicks should be trimmed to 1/4" before relighting.
Burn no longer than 4 hours at a time.
Place your candle in a safe place away from any flammable items.
Stop burning when candle wax is within 1/4" of bottom of container.

All candles are made by hand. Variations in the appearance of the wax may occur and are natural and do not affect the performance of the candle.

Everyone experiences scents differently and this scent may smell less or more strong depending on your unique sensitivity to smells.
Share
View full details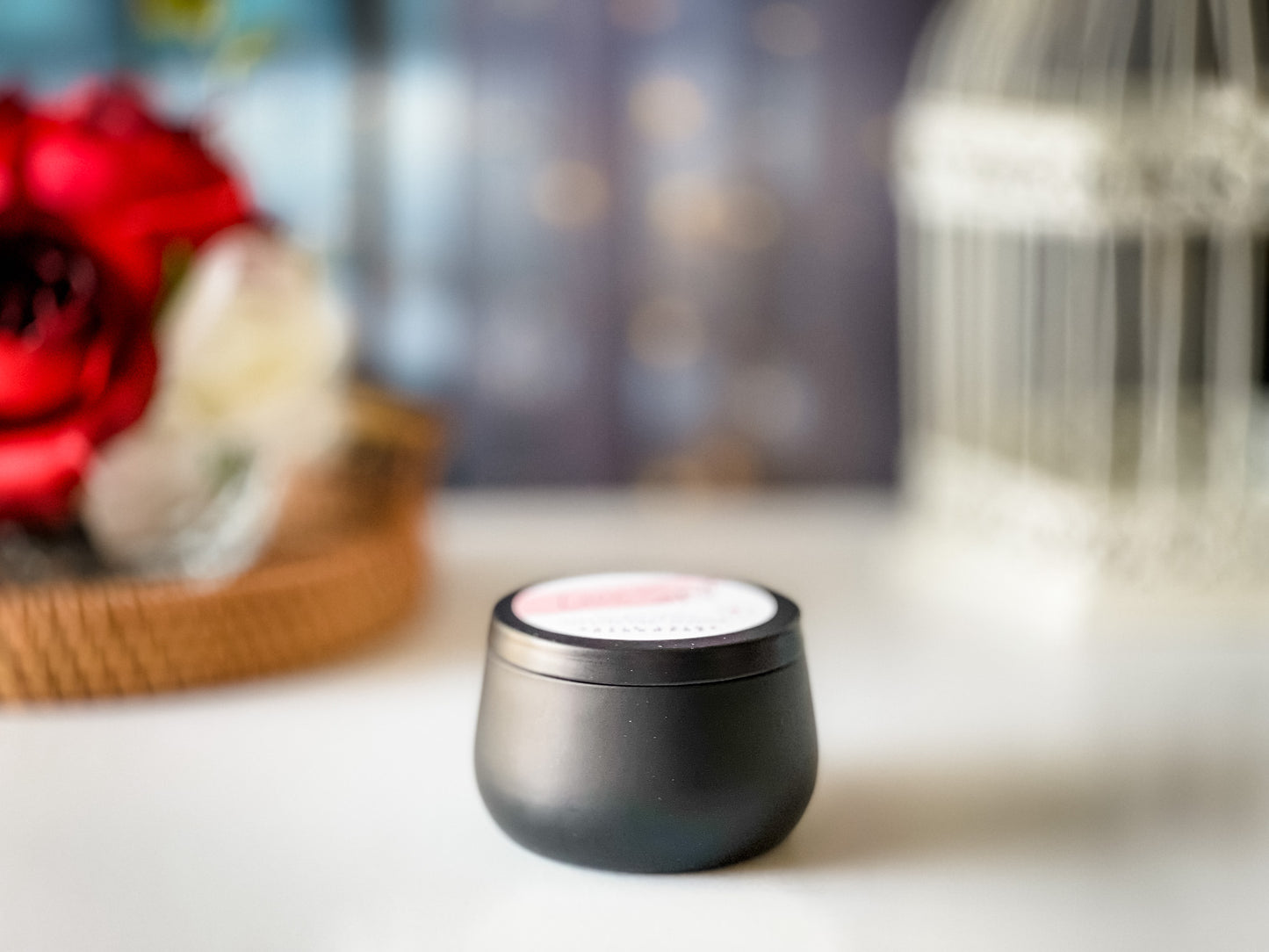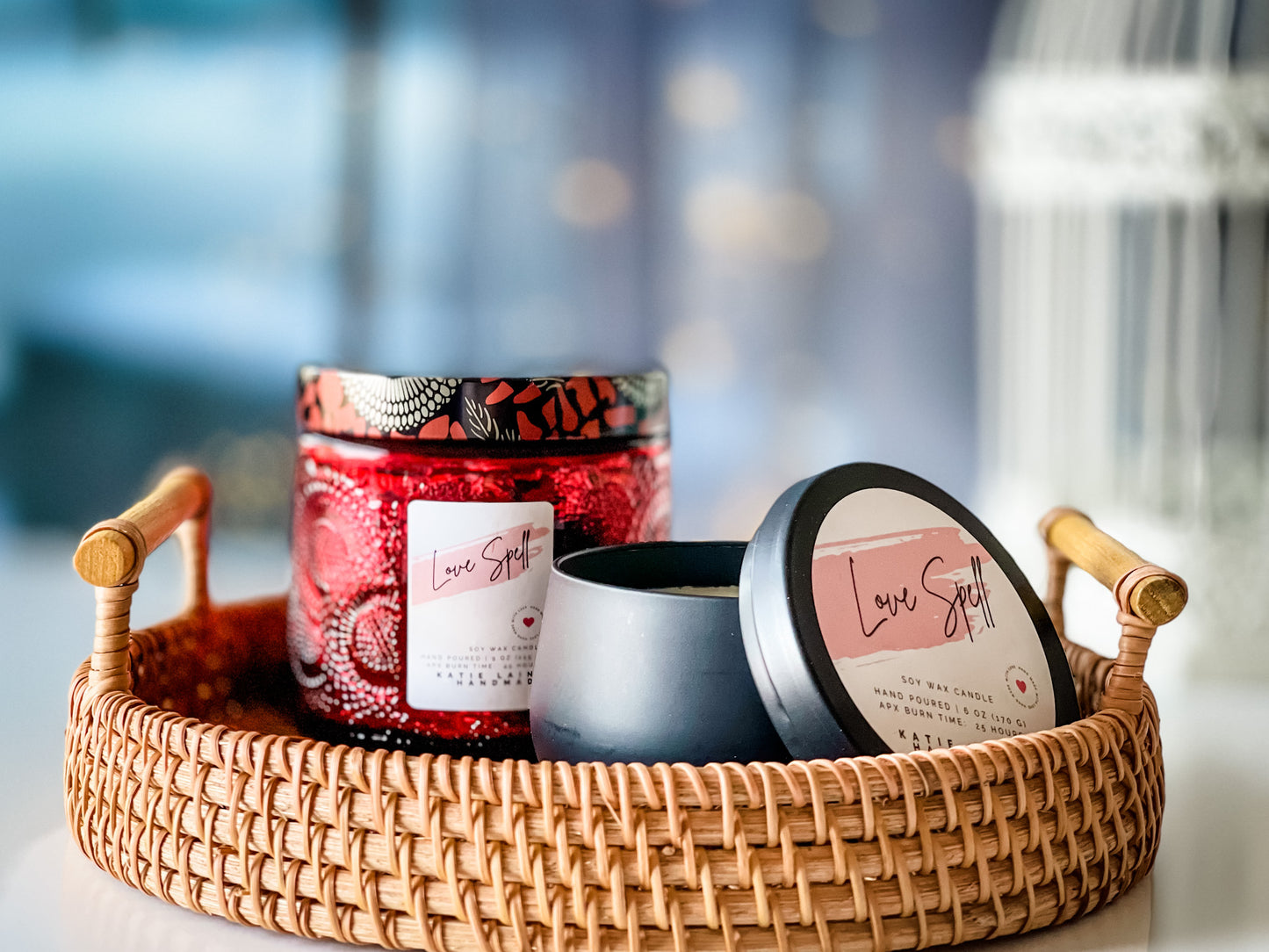 "The best thing about handmade is it's created with love and care by an actual person that you can reach out and talk too. It's knowing that your supporting a family and not big business."