Regular price
Sale price
$18.00 USD
Unit price
per
Sale
Sold out
Introducing the Magnolia & Peony Soy Wax Candle, a delightful addition to our Spring Scent Collection. Our hand-poured candle is made with high-quality, natural soy wax that burns cleanly and evenly, and is infused with a blend of exquisite fragrances that will leave your home smelling fresh and inviting.
Fragrance: With notes of cherry blossom, bergamot, magnolia, peony, green leaves, freesia, amber, and powder, our candle offers a harmonious blend of sweet, floral, and earthy scents that create a relaxing and peaceful ambiance.

Clean burning: Our soy wax is made from natural soybeans, which burn cleaner and longer than traditional paraffin wax candles. It's also biodegradable, renewable, and free from harmful toxins.

Hand-poured: Each candle is hand-poured with love and care to ensure a consistent and high-quality product.

Stylish packaging: Our Magnolia & Peony Soy Wax Candle is available in two different sizes, a 9 oz. glass jar or a 6 oz. tin, both of which are reusable and will complement any home decor.

Perfect gift: Our candle makes a perfect gift for any occasion, including Mother's Day, birthdays, anniversaries, or simply as a thoughtful gesture to show someone you care.

Long-lasting: Our 9 oz. glass jar candle has a burn time of up to 50 hours, while our 6 oz. tin candle has a burn time of up to 30 hours, so you can enjoy the beautiful fragrance for an extended period.
Transform your home into a soothing sanctuary with the Magnolia & Peony Soy Wax Candle. With its beautiful fragrance and clean-burning properties, you can indulge in a luxurious and relaxing atmosphere that will uplift your mood and calm your senses.
Available in 6 oz. tin or 9 oz. glass jar (lids included).

CANDLE CARE:
Allow your candle to burn until the full surface has melted. This ensures that your candle reaches a full melt pool and burns evenly for its full life.
Wicks should be trimmed to 1/4" before relighting.
Burn no longer than 4 hours at a time.
Place your candle in a safe place away from any flammable items.
Stop burning when candle wax is within 1/4" of bottom of container.

All candles are made by hand. Variations in the appearance of the wax may occur and are natural and do not affect the performance of the candle.

Everyone experiences scents differently and this scent may smell less or more strong depending on your unique sensitivity to smells.
Share
View full details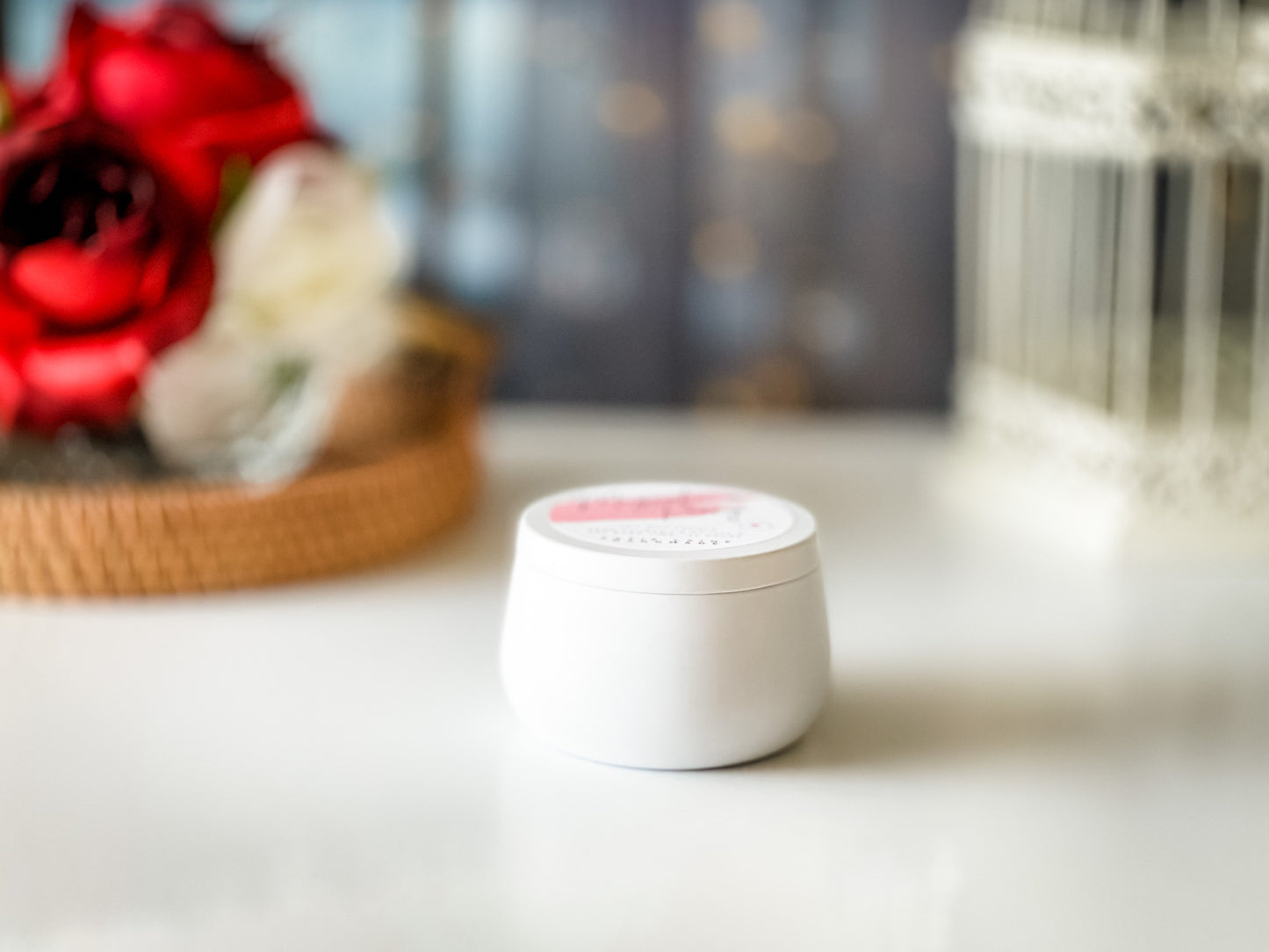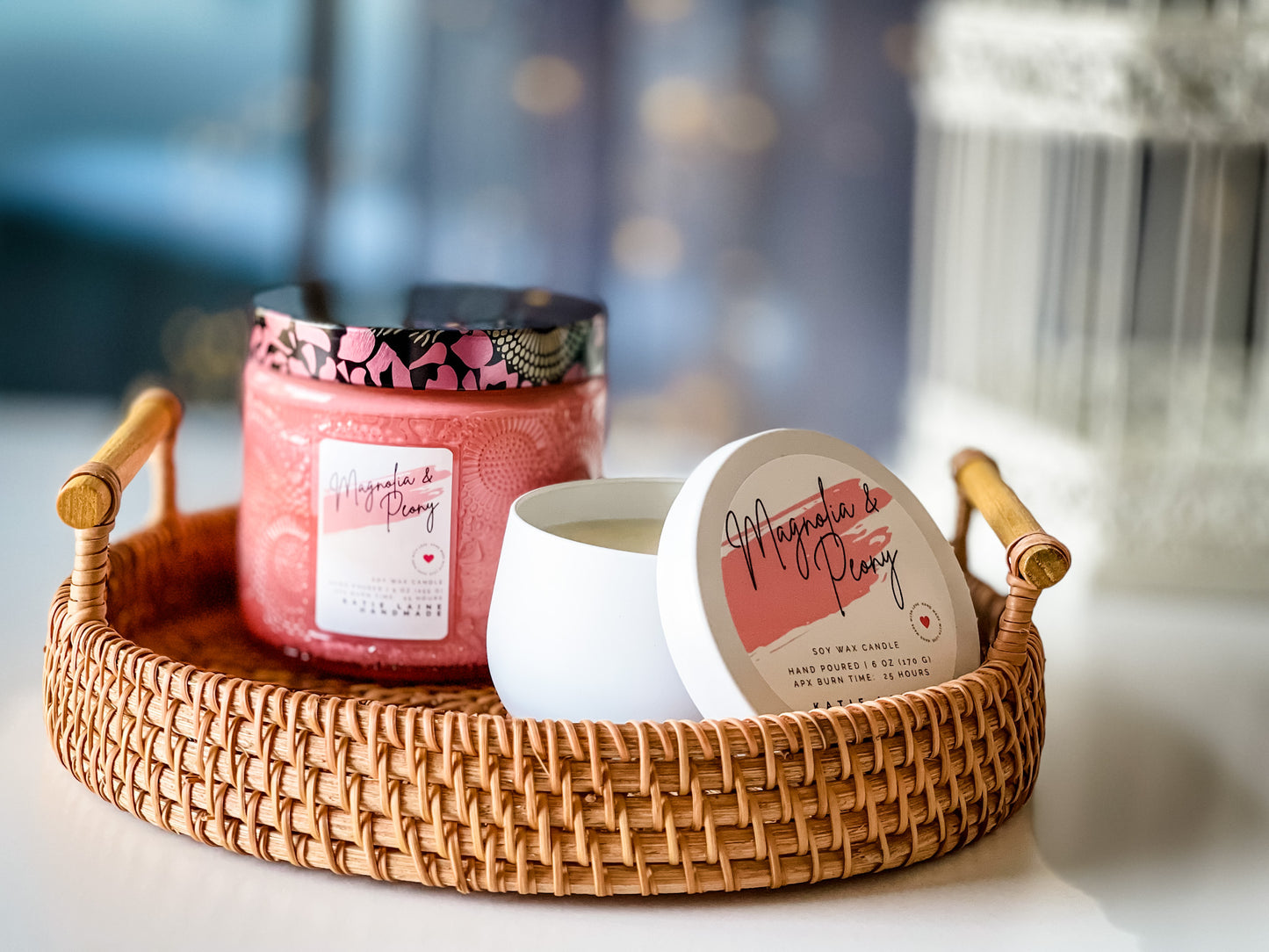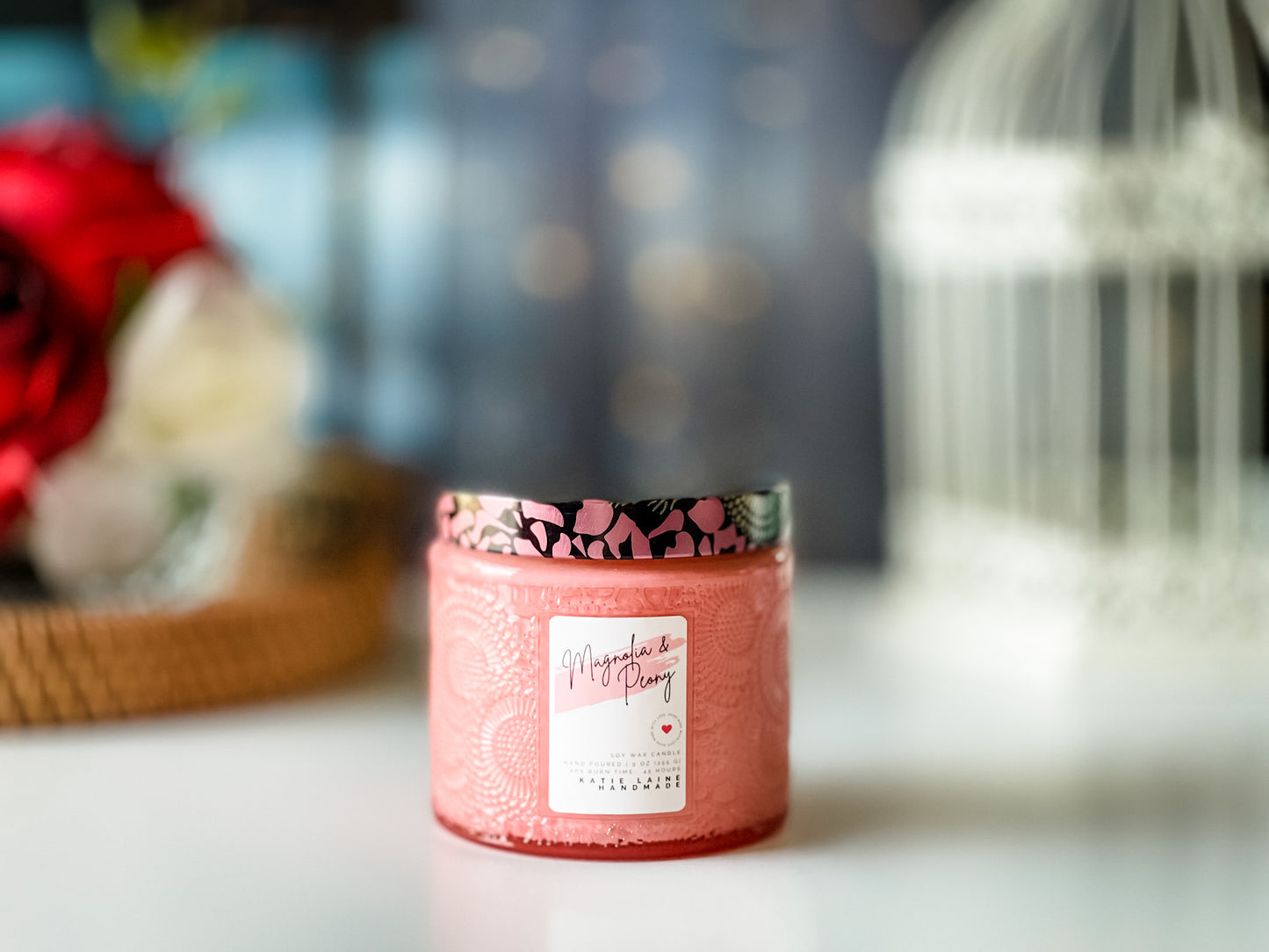 "The best thing about handmade is it's created with love and care by an actual person that you can reach out and talk too. It's knowing that your supporting a family and not big business."